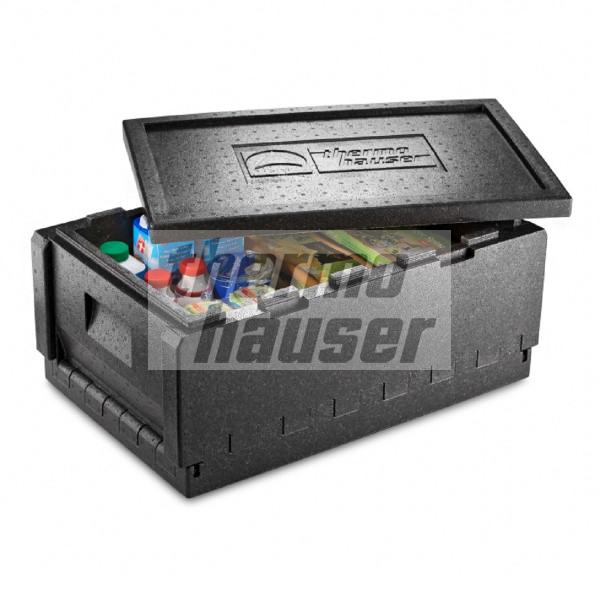 Hint:
Decorations, inserts, accompanying products, etc. depicted on the product photos are generally not included in the scope of delivery, unless the item description explicitly contains other information!
Thermobox GN 1/1 VARIO (Faltbox), EPP
Different versions available
Die Faltbox VARIO GN 1/1 ist ein echtes Raum- und Isolierwunder!
Sie stehen im Supermarkt, möchten frische und / oder Tiefkühlprodukte einkaufen, aber es ist zu warm und der Rückweg würde zu lange dauern? Kein Problem mehr mit unseren Thermoboxen!
Ihre hohe Isolierwirkung und minimaler Temperaturverlust über Stunden machen die Boxen in einem Temperaturbereich von etwa -40°C bis +120°c optimal einsetzbar. Egal, ob Sie Eiskaltes oder Kochenheißes transportieren möchten, mit der richtigen Thermobox wird es gelingen.
Das Material EPP (geschäumter Kunststoff) ist extrem leicht, aber hoch widerstandsfähig, natürlich lebensmittelrechtlich unbedenklich und ganz einfach zu reinigen (fließend heißes Wasser oder Spülmaschine).
Die Boxen sind damit ideal für den Einsatz in Gastronomie, Gemeinschaftsverpflegung und Lieferdiensten sowie auch für Privathaushalte geeignet.
Das Besondere der Box Vario - sie ist eine Klapp- / Faltbox! Zur Aufbewahrung lässt sie sich einfach und platzsparend zusammenfalten, ca. 2/3 der Gesamthöhe können so eingespart werden.
Thermobox GN 1/1 VARIO (Faltbox), EPP - Varianten
€0.00
Article No.
Version
Delivery time
Quantity
Price
–– Please make your selection! ––
Nutzhöhe 23 cm, Volumen 40 Liter
Order within the next
18 hours and 4 minutes
so the order is shipped
tomorrow
.